Rental Conditions

Driver's Age and Driving Licence

All international driving licences are valid. Drivers must be at least 21 years old and at most 75 years old to rent a car in Turkey. To rent a car in Mini and Economy groups, you must be at least 21 and you need to have a driving licence of 2 years. Standard and Premium Car Groups requires 3 years of driving licence and age of 25. Luxury and Vehicle groups can only be hired by drivers above 28 and having a driving licence of at least 3 years. Please check the information you have provided in order not to have any problems during pick up.

Additional Driver

Rental car may be driven by an additional driver apart from the main driver. Charge apply to the additional driver and you need to select it during your booking. Additional drivers are also obeyed to the rules for the main driver in terms of age and driving license years. In case of an accident, while a non-registered driver is driving the car the rental car insurances will bevoid.

Minimum Car Rental Period

Minimum car rental period is 1 day and 1 day is interpreted as 24 hours. Any car rentals less than 24 hours will be considered as 1 day.

Price

The published prices are including your choice of rental vehicle, unlimited mileage, VAT, legal liability and damage insurance and add ons checked.

Costs such as fuel and personal accident insurances, extra options (which has not been bought during booking) is not included in the published prices.

Deposit

Car rental supplier will require you to pay a deposit not more than 300 EUR during the collection of the car. A credit card in the name of the main driver is a must. You may pay the deposit as cash or the deposit amount will be charged to your Visa/Mastercard credit/debit card. The amount will be blocked to the valid credit card if you prefer to use your credit card. Deposit amount might be used for traffic fines, missing fuel, damages to the car which are out of the coverage of insurance etc.

Insurance

There are conditions that insurance policies to be valid. There should be no alcohol or drug at the time of accident, no speed limit violence, no additional driver other than specified one, and no drive out of the main roads. You need to get alcohol-drug free report from the nearest hospital and submit it to the rental suppliers in 48 hours.

Flight Information

It is important that you provide the flight information during booking. If flight information is not available at the time of booking, please send it 24 hours before the pick up to the info@leventrentacar.net email address. Entering the flight information will help us to welcome you on time and right place.

Pickup and Drop Off the Vehicle

You need to have a valid driving licence, a valid credit card and a valid ID to be able to pick up the car. You need pick up the car at the address specified on the voucher and drop off accordingly. Delays of 1 hour isaccepted. Delays more than 1 hour may be charged by the rental supplier.

Late Return: Late returns are handled in the contract between renter and rental supplier.

Early Returns: There is no reimbursement when the car is returned early.

Fuel

When you return the car, fuel tank need to be at the same level of the pickup. There is no reimbursement if the car has more fuel. If fuel is missing partially, you will be charged by the rental supplier.

Car Specifications

Otorento is unique in terms of providing the same car that you have booked. In some cases, (mechanical problems, damage to the car, late returns etc.),another car in the same or higher group will be provided to you by the rental supplier.

Cross Border Driving

Rental cars in Turkey can only be driven in Turkey.

Cancellation Policy

You may cancel your reservation till 24 hours before your rental start. 15 EUR cancellation charge will be applied. Remaining payment will be charged back to your credit card. If there is less than 24 hours before your rental start, you may still cancel your rental. In this case, 2 days rental fee will be charged and the remaining payment will be charged back to your credit card.
What is included in the prices?
Unlimited Mileage
Compulsory Motor Insurance
Vehicle Damage Insurance
24-hour Roadside Assistance
Airport Delivery Charges
What do you need to hire
Passport
Driver's License
Identity Card

Extra Services
Navigation
Driver Service
Baby Seat
Roadside Assistance
Unlimited Mileage
Airport Delivery
Full Insurance
Discounts
Muğla Area Map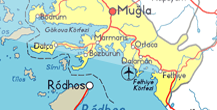 E-Newsletter
Price List
fıat egea 1.4 manuel
300 TL
fıat egea 1.6 otomatık
300 TL
MERCEDES VİTO
800 TL
MERCEDES E 180 ELİTE
500 TL
Click for all vehicles